Protest in 1960's Music 
Protest characterised 1960's music, as well as the hippy scene, and a pretty successful band from Liverpool. The beginning of the decade began with a continuation of 1950's music; rock 'n' roll, blues and jazz. However, with the assassination of President John F Kennedy, and the resulting escalation of the Vietnam war under Lyndon Johnson, a new movement began across the pond. Protest music often took the form of folk rock, famously sung by artists including Bob Dylan and Simon & Garfunkel. However, the flourishing civil rights movement and widespread backlash to the Vietnam war made protest music common across the full spectrum of genres. A Change is Gonna Come by R&B and soul singer Sam Cooke and Say It Loud – I'm Black and I'm Proud by James Brown, who was also an R&B singer, became very popular. The rise of protest music resulted in perhaps the most famous music festival of all time – Woodstock '69. The culmination of a decade of protest laid the foundations for the popular music festivals of today.
The British Invasion
UK music came storming onto the international stage in the early sixties, in a time known as "the British invasion". Bands such as The Rolling Stones, The Who, The Kinks and The Animals took American rock 'n' roll and made it their own, introducing their own influences and styles. However, one band from the UK took 1960's music by the scruff of it's neck – The Beatles.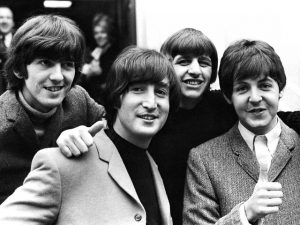 It can be easily argued they are the most influential band of all time, including during the 1960's. The Beatles were pioneers. They invented modern pop music as we know it today and began the trend of celebrity culture in the music industry, with 'Beatlemania' sweeping across the whole world. Listen to Hey Jude, one of the band's biggest hits, here.
Overall, the 1960's was a decade of innovation, ripping up the rule book and rebelling. If the teenager was invented in the 50's, it really made it's presence known in the 60's.
Interested in hiring a band? Check out our fantastic range of bands here.